Recipe: Perfect Vegan mango cheezecake
Vegan mango cheezecake. This No Bake Vegan Mango Cheesecake with Passion Fruit Mango Glaze is the ultimate summer dessert. This Gluten-Free, Eggless, Dairy-Free and Refined Sugar Free Mango Cheesecake is a healthy dessert the whole family will love! This post may contain affiliate links to products.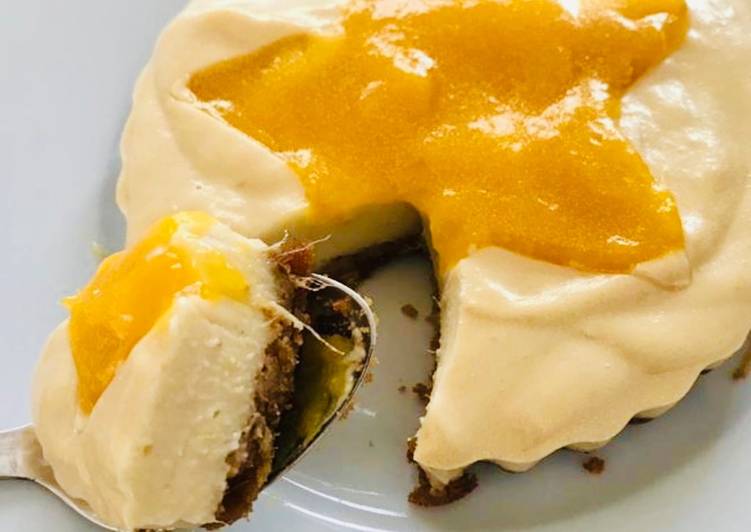 Made with only natural sweeteners, this cheesecake is both great for you and incredibly delicious! For the topping, place the half of mango in a blender and coconut oil and blend until pureed. Pour over the filling mixture and even it out with the back of a knife or flat spatula. You can have Vegan mango cheezecake using 10 ingredients and 6 steps. Here is how you achieve that.
Ingredients of Vegan mango cheezecake
You need 500 g of Silken tofu.
It's 200-250 g of Icing sugar.
It's 1 tablespoon of Agar Agar powder (not flakes) & 100mls mango juice & 200mls cold water.
Prepare 300 g of plain soft cheese-alternative (vegan) I used Sainsbury's free-from.
It's 400 g of Tin/pack of mango in juice- I used del-monte.
You need 350 g of Ginger biscuits -usually accidentally vegan but check ingredients.
It's 80 g of Vegan butter.
Prepare tin of Spring-form cake.
You need 1-2 tablespoons of Hatchi sour plum paste (see picture in step 2).
You need Squeeze of lemon juice (optional).
This mango pie with a jelly layer is light, creamy, fruity, smooth, and very delicious. It's the perfect dessert which is not too sweet and it contains a delicious granola crust. The recipe of this mango cheesecake tart is vegan, gluten-free, refined sugar-free, and easy to make! Check the recipe notes of a soy-free no-bake version.
Vegan mango cheezecake instructions
Blitz the ginger biscuits into crumbs, melt the butter & mix into the biscuit crumbs. Press into the greased cake-tin to make a base. Bake for 15mins on 180 *C. Then leave to cool..
Blend the tofu, soft cheese, icing sugar, 150g of mango chunks & plum paste till smooth. Taste & add more plum paste if needed -you're aiming for a sour cheesy flavour..
Once you know the base is cool (1/2 hr after baking) put 100ml of the mango juice & the water in a small pan & mix in the Agar Agar powder. Bring to the boil, stirring constantly- let it boil for a minute (keep stirring).
Working quickly because it will start to set as it cools- switch on the blender & pour in the Agar Agar mix, blend for a minute then scrape the contents into the cake tin, on top of the biscuit base. Spread out evenly -leave to set in the fridge for a couple of hours..
To finish - purée the rest of the mango pieces with a blender or mash with a potato masher, add a squeeze of lemon juice & a bit of icing sugar if it needs pepping up a bit, tinned can lack flavour..
Take the cheezecake out of the fridge. It should be set firm. Press a shaped cookie cutter into the centre gently (I used a star). Scrape the filling out of the middle of the shape. Fill the gap with mango purée & remove the cutter. Then decorate with edible glitter or edible flowers -whatever you like!.
From Oreo Cheesecake to Fruity Pebbles Cheesecake I am going mangoes for this new recipe!. Seriously if you have not yet tried it you are going to flip! Most vegan cheesecakes I've seen are using cashew cream as the base, but here I have created a No Nut, No Dairy, No Egg version of cheesecake that will have you (and your non vegan guests) amazed that this is not the real deal! If you like a sweeter cheesecake, add a bit more agave or maple syrup. Pour the cheesecake mixture on top of the graham cracker crust and use a rubber spatula to spread it evenly.