Easiest Way to Make Tasty A Cake For People With Egg Or Milk Allergies
A Cake For People With Egg Or Milk Allergies.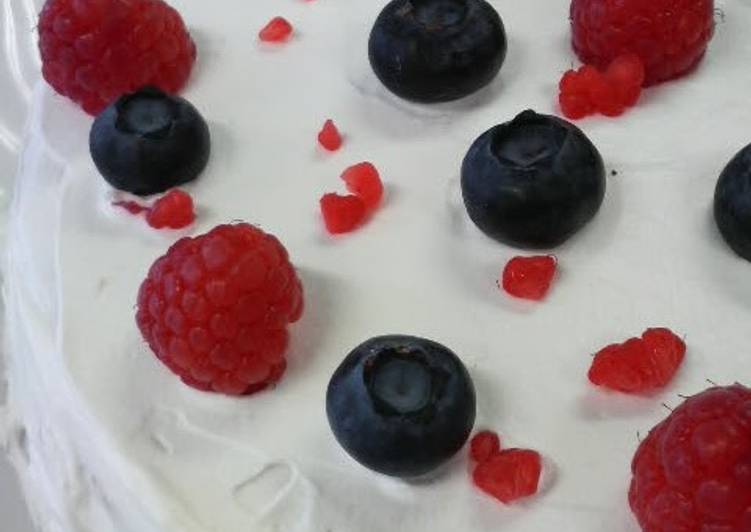 You can have A Cake For People With Egg Or Milk Allergies using 11 ingredients and 11 steps. Here is how you achieve it.
Ingredients of A Cake For People With Egg Or Milk Allergies
You need of White flour.
Prepare of heaping teaspoon Baking powder.
It's of Sugar.
Prepare of Soy milk.
You need of Vegetable oil.
You need of 3 drops Vanilla extract.
You need of Simple syrup (the capsules for coffee).
You need of Water.
It's of Soy Milk Cream.
It's of tablespoons, 1/2 tablespoon Sugar.
It's of appropriate quantity Fruits you like.
A Cake For People With Egg Or Milk Allergies step by step
In advance, sift the flour and baking powder together, and set aside. Thoroughly chill the soy milk. Preheat the oven to 320F/160C..
Using a whisk, beat together the soy milk and sugar. While still beating, mix in the oil..
Sift flour and baking powder a second time and mix together with the soy milk mix..
When the mixture has come together, add vanilla extract to produce a light aroma..
Line the cake pan with parchment paper and pour the finished batter into the pan. Even out the center of the batter with a rubber spatula..
Put the pan in the preheated oven for about 30 minutes. (If the cake starts to brown too quickly, cover with aluminum foil halfway through.).
While the cake is baking, mix together the syrup and water. The fruit will be used for decoration, so wash and cut as you please..
Prepare a bowl full of ice. Pour soy milk cream into a second bowl and set it over the ice. Beat until the cream forms a thick ribbon when the whisk is lifted. Halfway through beating, add sugar..
After the cake has finished baking, check the cake with a bamboo skewer. If the skewer comes out clean, the cake is done. Place the cake on a cooling rack to cool..
Cut the cake into two layers by slicing horizontally through the middle, brush each layer with the syrup solution..
Use half of the cream mixture to cover the first layer and add some of the fruit. Add the second layer of cake on top of this and cover with the remaining cream. Decorate with the remaining fruit..