How to Prepare Yummy Patricia's love up on me lasagna
Patricia's love up on me lasagna. Once you have the gravy cooking, prepare the lasagna noodles: Place a large pot of water over high heat and bring to a boil. Add some salt and the lasagna noodles, and cook according to package directions, stirring frequently to prevent sticking. To use frozen lasagna: Thaw in the refrigerator overnight.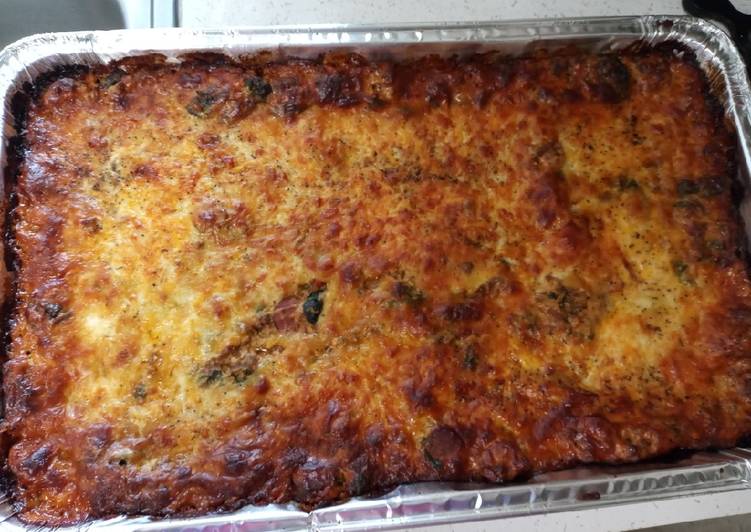 If this scenario sounds more like you, you'll love lasagna gardening (also called sheet mulching or "no dig" gardening). A busy mother of seven children and an inn owner, she simply didn't. Available at some supermarkets and at specialty foods. You can have Patricia's love up on me lasagna using 13 ingredients and 5 steps. Here is how you achieve that.
Ingredients of Patricia's love up on me lasagna
Prepare 1 lb of ground turkey/ground beef.
It's 3 jars of Prego chunky spaghetti sauce.
Prepare 1 Tub of Ricotta Cheese.
You need 1-2 package of mozzarella cheese.
Prepare package of cheddar cheese.
It's of Lasagna Noodles pre-made.
Prepare package of smoke kielbasa sausage.
It's of Salt and pepper.
Prepare teaspoon of black pepper.
It's teaspoon of cayenne pepper.
Prepare of Olive oil.
You need of Baby spinach.
Prepare of Baking pan.
Lasagna gardening is all about layers. The beauty of it is that you can place these gardens anywhere there is enough sun and it's fairly flat. They can be large or small depending on your needs. You don't need to worry about tilling up a space, just heap layers upon layers until it's the right height.
Patricia's love up on me lasagna instructions
Brown ground turkey/beef, which ever you choose to use with cayenne pepper, salt & pepper, onions, dry thyme, a bit of Ms. Dash seasoning, basil, Lawry's seasoning salt..
Cover the mixture and allow to cook for 20-25 mins to brown properly.
After browning, drain excess oil off and return to the stove..
Add 1Tub of Ricotta Cheese, 1-2 jars of Prego chunky spaghetti sauce, re-seaoned, add baby spinach and simmer until spinach is fully incorporated in the mixture..
Rinse your bake pan and dried excess water, depending on the size of your pan you need 1/2 to 1 jar of chunky sauce in the bottom of the pan, scoop your mixture using a ladel into the pan, add noodles on top of sauce, add mixture on noodles to cover noodles completely, add mozzarella cheese on top of mixture (make sure you edges are covered with cheese), repeat this for layers two or three. Pre-heat oven at 350 degrees and for 45 mins-1 hour..
Mixing pistachios into pesto sauce is a tip I picked up in Sicily. If you have a blender or a food processor, it's easy to blend in the pistachios yourself. Cook and drain lasagna noodles according to package directions. Alternate layers of noodles, sauce, ricotta, mozzarella and parmesan cheeses, ending with sauce, mozzarella and parmesan. Pop it in the oven, and THIS is what comes out….