Easiest Way to Prepare Yummy Iz's Vegan Easy French Bread
Iz's Vegan Easy French Bread.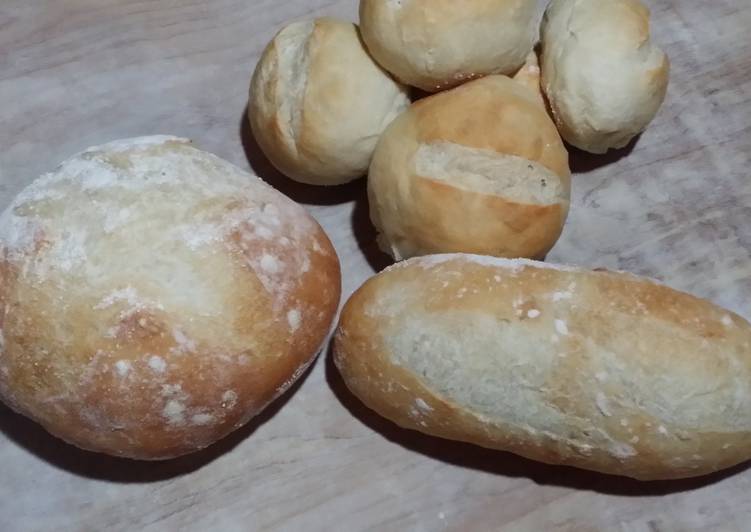 You can cook Iz's Vegan Easy French Bread using 4 ingredients and 39 steps. Here is how you cook that.
Ingredients of Iz's Vegan Easy French Bread
It's 15 3/4 oz of bread flour.
It's 1/2 oz of salt.
Prepare 1/4 oz of yeast.
You need 11 3/4 oz of water.
Iz's Vegan Easy French Bread step by step
All measurements are by weight. If you don't have a scale, here are alternative measurements:.
Bread flour - 3 cups.
Salt - 2 1/2 teaspoons.
Yeast - 1/4 oz package of Rapid Rise Yeast (If you use this type, you will NOT have to mix with warm water first.).
Water - 1 1/2 cups.
Ok, now for the bread. Put the flour in a bowl..
Add the salt and mix thoroughly..
Add yeast and mix thoroughly..
Add water and mix until incorporated. (Your hands will work fine for this.).
Cover the bowl and let rise for for 20 minutes..
Fold the dough:.
Scrape dough into floured surface..
Pick up top edge and stretch/pull/fold the dough down about 2/3 and pat down..
Pull the bottom edge up to the top of the fold and pat..
Pull one side over 2/3 and pat..
Pull other side to the edge of the fold and pat..
Place back in bowl and cover. Allow to rise another 20 minutes..
Fold dough again. Notice that the gluten is starting to develop nicely and the dough is smoothing out..
Step 19 showing gluten development.
Allow to rise another 20 minutes..
Fold one last time. Notice the gluten has developed further. This is how we get away without a mixer or kneading the dough a lot. (Actually, kneading/mixing french too much makes for poorer bread.).
Allow to rise for 2 hours. This is a good time for that nap you've been wanting..
Divide the bread. This will make 28 ounces of dough. Which is about 10 rolls, 2 baguettes, 3 boules, or 1 sandwich loaf. Today I will be making some rolls, a boule, and and will figure some other shape for the rest, maybe a peasant/batard sort of thing. So that's three pieces of dough: 1/2, 2/3 of the other half, and the scrap..
Cutting the dough.
Ball or boule the pieces of dough, place on a floured surface, cover and allow to rise for 40 minute..
After the dough has risen.
Cut the rolls into 5 pieces..
Shape into balls, place on a cornmeal dusted cookie sheet. (DO NOT use cornmeal mix, it has baking powder, flour, and salt added and will burn. You can use rice flour if cornmeal is not available in your area.).
Ball up the boule now and place on a heavily cornmealed surface. Shape the scrap too..
Cover and allow to rise until doubled. This will depend on the temp in your kitchen, but will be around 1 hour for the boule, 40 minutes or so for the scrap, and 25 minutes for the rolls. The temperature today here is 87F, so I won't be waiting that long..
Preheat oven to 450°F. Preheat a baker's stone or cookie sheet as well. Just put it in and turn it on. If you use a cookie sheet, you will need to watch for burning with the boule and scrap. For those of you that didn't check out my profile, I live off grid. For now, my oven consists of a Coleman camp stove with a Coleman camp oven..
I'm putting up pics so you can see that even with meager equipment, you can make good bread..
Slice the top of the rolls with a knife or razor blade and bake until brown, or an internal temp of 180°F - 200°F.
Slice, or score, the tops of the boule and scrap..
Use a turner to transfer the scrap to the stone..
Then the boule. If your stone is not large, bake them separately..
Bake until hollow sounding when thumped on the bottom, or 200°F internal temp..
Cool on a wire rack. If you can wait.....
Per serving (one roll) Calories 166 Fat 0.1 g Saturated 0.0g Polyunsaturated 0.0g Monounsaturated 0.0g Trans 0.0g Cholesterol 0.0mg Sodium 440.7mg Potassium 0.0mg Carbohydrates 31.5g Dietary Fiber 1.7g Sugars 0.0g Protein 6.2g Vitamin A 0.0% Vitamin C 0.3% Calcium 01% Iron 3.0%.